Advanced Applications for Hybrid LED Lighting Fixtures in General Illumination
Examining the evolution of lighting system with hybrid fixture types and full control for ideal layering and distribution of attractive light in a sustainable, responsible manner.
By C.C. Sullivan, Contributing Editor
The use of light-emitting diode (LED) sources for general illumination has grown dramatically in recent years, including in combination or hybrid LED lighting systems combining aimable general illumination, wall wash and spot lighting, paired with integrated controls and emergency backup units. Courtesy Tech Lighting
The use of light-emitting diode (LED) sources for general illumination has grown dramatically in recent years, thanks to their efficiency, color stability and durability. The evolution of LED lighting systems has led to a number of promising directions that offer good layering and distribution of attractive light in a sustainable, responsible manner. Among those is an emerging class of combination or hybrid LED lighting systems engineered for flexible, modular applications. The highly configurable fixtures can include aimable general illumination, wall wash and spot lighting, paired with integrated controls and emergency backup units. Rather than requiring a mix of three or more fixture types that are field-engineered and wired to achieve the same results, these hybrid fixtures are sole-source, single-system solutions.
A number of questions raised by these novel hybrid LED fixtures are addressed in this learning unit. Chief among them are how these systems can address the goals and best practices of interior lighting design. If there are clear benefits in using LEDs for proper mixing of general illumination and task illumination, what are the best ways to apply the hybrid fixtures for maximum efficiency and efficacy? In this discussion of novel modular lighting fixtures and systems, the concepts and principles behind their application will demonstrate how these uses play out. 
Illustrations of their optimal efficiency and photometric criteria / dispersion help clarify how the designs of interior spaces can be achieved while using fewer fixtures yet meeting goals for foot-candles and light quality where needed. In addition, theoretical examples and case studies show how lighting design solutions can save labor, material and installation time in certain building projects.
In particular, this learning unit illustrates how a highly configurable fixture system can serve as the sole or majority light source throughout spaces requiring general illumination, wall washing, task illumination or all three. Applications to varied markets and industries will show how the hybrid fixtures solve challenges in retail, grocery, corporate office, healthcare, education, hospitality, museum, library and gallery facilities. In all these instances, a few themes emerge: First, using a single fixture type can provide for aesthetic cohesion throughout the interior environment. Second, costs and installation challenges may be eased by using a single lighting system solution with integrated controls and emergency backup. Other advantages may include construction uniformity, scene control, and schedule synchronization.
Another question addressed in this context is how the aiming of light helps increase the efficiency and adaptability of the lighting solution. "All else equal, aimable fixtures reduce the use of unneeded foot-candles and allow for reconfiguring the lighting scheme 'on the fly' without changing the position or type of fixture," says Al DeGenova, director of marketing for Tech Lighting, Skokie, Ill. In addition, it allows for the layering of light, which is shown to be a best practice in lighting design.
PART 1 – LEDs and Layers of Light
The basics of lighting design include a few valuable principles that apply in every commercial or institutional space occupied by humans. These meet the underlying goals of good facility design:
•  Like the spaces, the lighting should look good and provide proper amount of light for the expected comfort and function.
• The lighting design should meet the budget and all code requirements as well any other key constraints, such as LEED certification criteria.
• Lighting should always be efficient and environmentally responsible.
• The lighting design should support the architectural and interior design solutions, helping reinforce the desired mood or ambience.
• All lighting fixtures and sources should produce good color and maintain the required lumens.
• The fixtures should also allow control of the lighting levels, and provide some backup in case the electricity fails.
Typical light sources for commercial and institutional facilities that meet these criteria include LEDs but also may comprise halogen, fluorescent and in some cases incandescent sources.
To determine the optimal solution for a given space, best-practice lighting design begins with an accounting of how much light is needed. This is the basic lighting criterion: For example, at a desktop in a computer-intensive, open-plan office environment, vertical illuminance should be maintained at about 5 foot-candles (fc) or about 50 lux or lumens per square meter), according to West Des Moines, IA-based Lighting Associates. Compare this to a filing area, which should be at 10 fc—or a commercial kitchen, which requires about 45 fc at a food preparation work surface (roughly 500 lux), per the U.S. General Services Administration (GSA).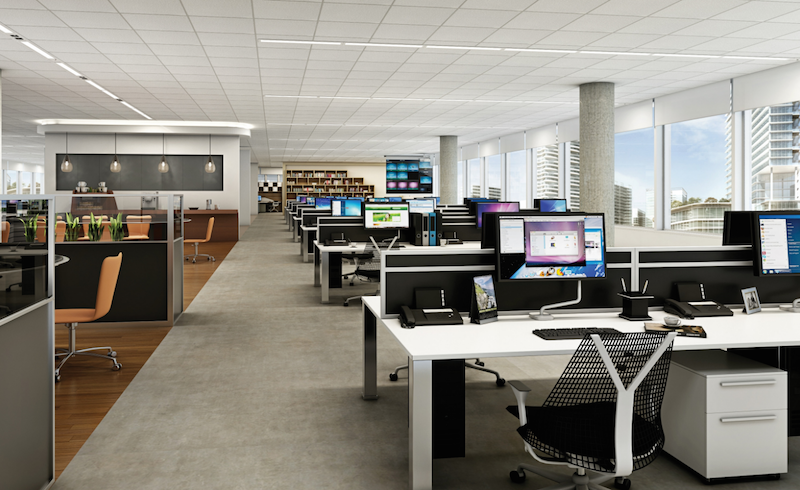 For a desk area in a computer-intensive, open-plan office environment, vertical illuminance is typically 5 foot-candles (fc) as compared to a filing area, which should be at 10 fc, or a commercial kitchen, which requires about 45 fc at a food preparation work surface. Courtesy Tech Lighting
How much light does a grocery store need? Enough so that shoppers can read their food labels—or about 50 fc. In a basketball court? At least 100 horizontal fc and 30 vertical are needed, whereas that hospital stairwell only needs 10 horizontal and 3 vertical fc.
The Layered Approach
In any of these settings, the best way to achieve the proper illuminance levels while also maintaining an aesthetically suitable solution is by using a layered approach to lighting. In fact, "Layering light is the key to lighting design," according to Craig DiLouie, LC, an analyst, and groups like the Illuminating Engineering Society (IES), adding that, "Layering involves combining ambient, accent and task lighting to create a balanced, visually comfortable space." Designers such as James R. Benya, PE, FIES, FIALD, a lighting designer and professional engineer with Benya Burnett Consultancy, describes four elements of effective layering:
• Ambient
• Task
• Focal
• Decorative

A layered approach to lighting helps achieve proper illuminance levels while also maintaining aesthetically suitable solutions, by using four elements: the ambient, task, focal and decorative layers. Courtesy Tech Lighting
Layer 1: Ambient (General Lighting)
The first layer to consider is general illumination, the diffuse and uniform lighting that helps occupants with general vision and orientation. Called ambient or general lighting , this often comes from overhead luminaires such as downlights and pendants that help eliminate dark areas while casting some light on the floors, walls and interior objects. Both ambient and general illumination describe relatively uniform overall lighting, but general lighting is defined as illumination at task levels (minimum of 30-50 fc), while ambient lighting is lower than task fc levels.
Ambient lighting helps also to establish the overall mood or feeling of a space: Brighter spaces tend to instill a more functional and welcoming state of mind, for example. In addition to uniform downlighting, ambient or general lighting can be provided by indirect sources such as uplighting and wallwashing, as well as other special techniques, such as cove lighting and other decorative approaches, that also provide higher levels of general lighting.
Layer 2: Task
Generally limited to localized needs, task lighting provides supplemental illumination meant to facilitate specific activities, such as paperwork, reading, handwork, cooking, assembly and the like. Task sources can be localized or general in nature, and the luminaires are often visible. The typical illuminance produced by task sources is around 50 fc or more, all within a small area. Often the task lights aim at horizontal work surfaces, but not always. Another use of task lighting is to provide a dramatic effect, such as contrast between a concentrated work area and a darker, less defined background. Tends to provide dramatic effect
Layer 3: Focal and Display
Called the display or focal layer, this lighting technique is often accomplished with accent luminaires or sources producing similar effects. The layer includes illumination for vertical surfaces and is usually not for horizontal planes, instead meant to stylize and augment a dedicated area or an exhibit or display. Fixtures that are adjustable are ideal for focal illumination, so that they can be varied for changes in the contents of window presentations, museums and galleries. In other cases they enhance architectural fixtures that may not require adjustments over time to luminaire position or angle. Luminaire types for focal lighting may include mono-point accents, recessed adjustable sources, wall washers and track fixtures, casting up to 100 fc or more on key displays so they contrast markedly with the ambient layer. Often the fixtures are chosen are discrete and practically hidden.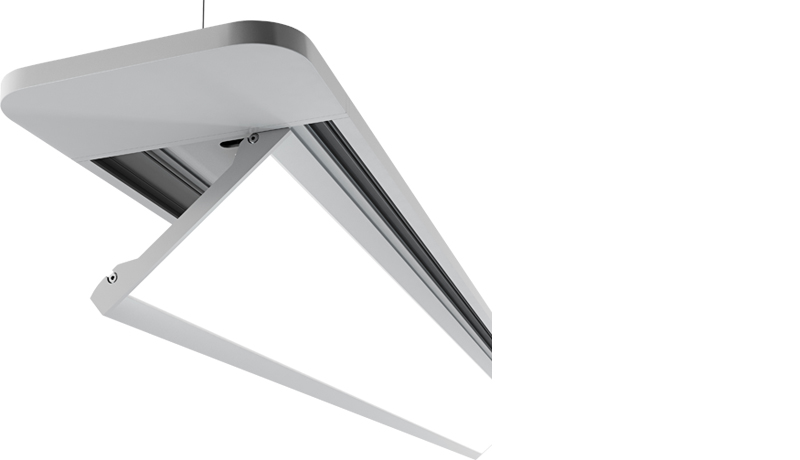 Adjustable fixtures like this tiltable, suspended system are ideal for focal illumination and for changes over time in the contents of window presentations, museums, galleries and the like. Courtesy Tech Lighting
Layer 4: Decorative or "Traditional"
A very different approach is the decorative layer, in which the luminaire design is the center of attention. The decorative layer of illumination is sometimes called traditional lighting because it is achieved with such classic sources as chandeliers and pendants, wall sconces and torchieres, floor and table lamps, and lantern-style fixtures. Decorative luminaires are often integral to the architectural styles and interior design expression. As with traditional interiors where daylight and decorative fixtures may contribute 100% of the required ambient illumination, this layer is generally expected to add to the ambient foot-candles. And where task lighting can create high drama, decorative lighting breeds familiarity and comfort while reducing contrast.
With up to four layers to create for a given architectural solution, it would seem that at least four and perhaps eight or more luminaire types would be needed for a given building project. At its core, however, the layering of architectural space lighting can be achieved with three basic fixture types: Aimable general illumination (for ambient and focal illumination), wallwashing fixtures (for task and focal light), and spotlighting (for ambient, task and focal illumination). If any of these fixtures are visible and architectural in nature—such as tracks or pendants with aimable general illumination or aimable spots, or both—it is also decorative in nature.
Novel hybrid fixtures developed in recent years provide the opportunity to achieve full layering with a single luminaire or lighting system. While they may not be suited to specific applications such as cove illumination or decorative types such as wall sconces, they can provide multiple layers of light to achieve a broad range of effects.
The use of layered lighting is a best practice in architectural environments, according to the designer Benya and others. Layering achieves multifunctional solutions that visually aid everyday needs and tasks, and at the same time helps create compositional and aesthetic goals for interior or exterior spaces. In summary, layering is the essence of modern architectural lighting design.
PART 2 – Introducing Hybrid Fixtures

Hybrid fixtures, including direct-indirect fixtures, provide for layering with a single fixture and can achieve multiple aims or combine multiple sources, addressing changing conditions or needs with a single product design. Courtesy Tech Lighting
The use of LED sources has expanded dramatically over the last decade to include almost every kind of luminaire, decorative fixture and utility source. Still, it is valuable to understand the basics of LED functionality to best apply LED fixtures for aimable general illumination, wallwash, and spotlighting capabilities.
Standard types of LED fixtures include luminaires designed for architectural lighting, including recessed cans, track lights, strip lighting, and dedicated cove and undercabinet fixtures. Other architectural luminaires are available for varied needs, including a wide range of outdoor fixture types. LED sources have also been applied to almost every kind of decorative product, including pendants, sconces, chandeliers and floor and table lamps. LEDs have for the longest time been used in signage and utility applications, however; the latter has included drum fixtures, strip lights, and long-lasting closet lights. This fact reflects the early challenges in controlling the color temperature of LED lamps, though today the control and maintenance of proper color makes LEDs ideal for any application where uniform white lighting is desired.
Adding to these new offerings are single fixture types that achieve multiple aims or combine multiple sources, and they can address changing conditions or needs with a single product design. In general, these can be described as hybrid fixtures if they provide the ability to create two or more layers of light.
One type of hybrid fixture is used for dual-function lighting in architectural settings. These include direct-indirect fixtures, which are commonly found in office buildings, libraries, retail settings, healthcare facilities and institutional interiors. The typical fixtures are linear ambient luminaires with an indirect component, including products mounted as suspended and recessed. Made for ambient lighting in indoor spaces, these fixtures have an intentional, engineered capability for indirect illumination. A pendant-style source with downlighting and uplighting is a prime example.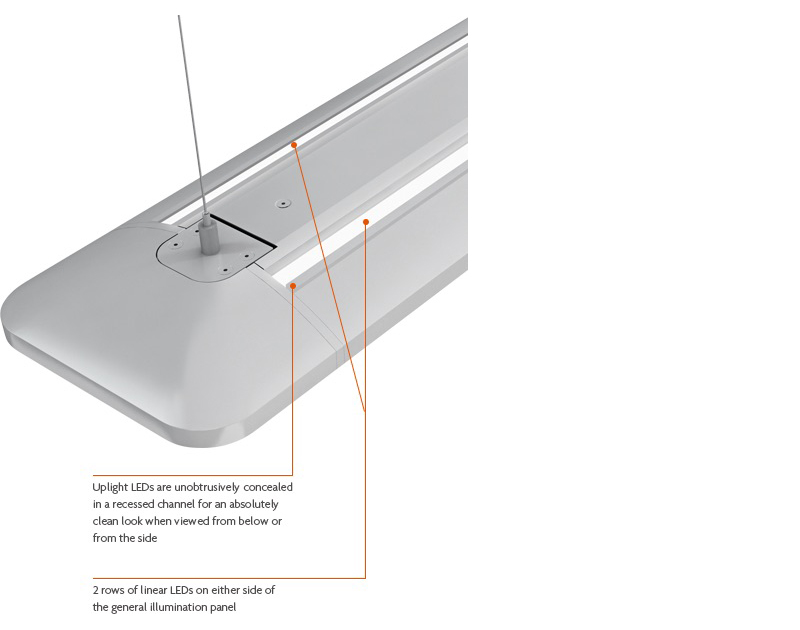 Hybrid fixtures can allow for dual-function or multi-function lighting in architectural settings, such as linear ambient luminaires with an indirect component, mounted as suspended pendants or recessed fixtures. Courtesy Tech Lighting
Conceived to control two lighting layers, the dual-function fixtures make efficient use of their lamps and lumen output. Consider for example how a fluorescent tube emits light fully 360 degrees around the source; this allows for uplighting and downlighting from the same source. They can be fashioned to contribute to the general/ambient lighting layer and also the task layer or focal layer.
Highly successful, the concept of dual-function fixtures has led to explorations of multiple-source and multiple-use fixture types. Some of these multi-hybrid lighting fixtures allow designers, end-users and operators to address various lighting layers and needs with a single, dedicated fixture. Conceived to control multiple layers using single system, the multi-hybrids are flexible and modular "built-up" LED systems, some with integrated controls and emergency backup lights. The hybrid fixtures are designed to be configurable given their nature: adjustments to illuminance levels and aimable components are essential so that they can be adapted to various applications. They are also designed to integrate into their surroundings, which is critical for architectural sources.
The makers of hybrid products "thought outside the box—and looked beyond existing product inventory," as Architectural Lighting magazine reported in 2014, describing one "modular LED lighting system developed in concert with a research-focused industrial design studio that provided a fresh perspective into the luminaire design process." This flexible overhead system brings together aimable general illumination with wallwash and spotlighting capabilities in a shallow, 1.3-inch-deep housing mounted flush or suspended from the ceiling. Comprised of general illumination panels, spots, lighting controls, and blank panels, the modular product "can be configured in myriad combinations," according to the publication.
Design and Use of LED Multi-Hybrids
Created with LED sources, these multi-hybrid fixtures can provide at least three types of lighting: aimable general illumination, wallwashing, and spotlighting. With this capability, the modular hybrid fixtures could serve as the sole or majority light source for many kinds of building spaces, including those requiring:
• General illumination
• Wall washing
• Task illumination
• Any two or three of the above.
To achieve the adaptable and effective use of the modular hybrids for these settings, a number of features and engineered performance characteristics may be employed.
First, products with lighting panels can improve illumination efficacy and design adaptability by allowing for adjustable angles of application—as offered by tilting panels, for example. The panels should maintain their position parallel to floor in order to control horizontal illuminance. In this way, the adjustable and tilting panels can accommodate a variety of wall-wash configurations as well as uses in aisleways and hallways. Examples of applications include retail merchandising, where product display aisles with variable fixturing or point-of-purchase displays are still properly illuminated in spite of changing installations.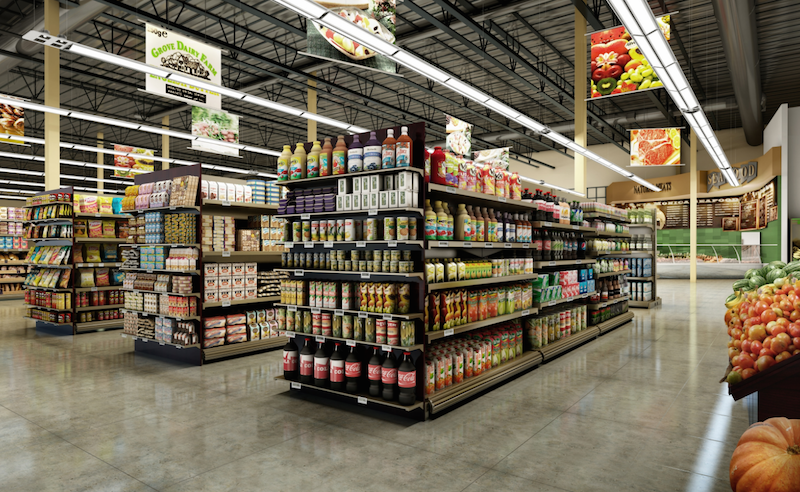 Fixtures with tilting panels can control horizontal illuminance in a variety of wall-wash configurations and in aisleway and hallway applications, such as retail merchandising, where product display aisles with variable fixturing or point-of-purchase displays are still properly illuminated in spite of changing installations. Courtesy Tech Lighting
Second, for thin-profile fixtures, light guides made with optical materials such as edge-illuminated engineered acrylics can be used to extract and redirect light to transmit at outer surfaces. To this end, some fixtures may use diffuser films. The light guides improve illumination uniformity while also eliminating pixilation and reducing glare. Third and last, aimability and adjustability of individual light sources within a multi-hybrid fixture can improve its application. Examples include wall wash sources, which can be fixed or have an adjustable angle, and also may use spot optics or a light guide material for the wash. When it comes to spots, key considerations include the size of light-emitting surface as well as the capability to tilt or rotate the fixture -- and to lock the fixture when the desired tilt and/or rotation are achieved.
Applications of LED Hybrid Systems
As is defined above, hybrid LED installations should allow the mixing of general illumination and task illumination. Ideal systems allow for aimability, in order to aim light to a task or display area, and will in some cases offer a direct-indirect option (for suspended fixtures). As with some electrical systems, hybrid lighting can be modular and pre-engineered so that it has prewired systems and also multiple channels (for presets or scene control, or both). In this way it may also have integrated controls, emergency backup and occupancy sensors. Adjustable features, such as tilting panels for wall wash, expand the range of applications for these hybrid products.
The proper use of one of these features, direct/indirect lighting, can help achieving optimal lumen distributions at target areas. The distribution sum of direct and indirect light levels always equals 100%, by combining indirect levels from zero to 100% and the inverse of direct light, 100% to zero. The direct illumination output should be even and optimized: fixtures for this application use efficient reflectors, diffuser films and/or light guides to achieve this goal. Indirect lighting should be wide and even in quality, and the uplights may be concealed -- in a recessed channel, for example -- for reduced glare and hot spots.
The basic principles of wall washing should be considered in applying the hybrid fixture. Wall-washing produces flat, even wash of light on a vertical surface using various source optics, such as recessed asymmetric distribution or an eyelid-style housing and a lens that can be recessed, semi-recessed, or track-and-surface type. For most applications, the following basic design rules apply:
• Fixtures should be located at least 24" away from the illuminated wall and positioned about 1/4 of the wall height distance away from wall.
       - Fixtures apart 1 to 1.5 times the distance from the wall
       - Min. of 2 feet
• The higher the wall, the further out the wallwashers
• Usually minimum of three wallwashing fixtures
Use of hybrid fixtures for wallwashing can be effective, according to lighting designers and engineers. They have multiple wall-wash capabilities, including the use of tiltable panels, a new approach using aimable, adjustable wall washers with a wide, diffuse light-emitting surface. The result is a balanced wash of light with sharp cutoff, which may be important in certain applications. The tiltable panels direct light where needed, and a continuous run of light guides may be preferable as compared to spots for wall wash, to eliminate "hot spots" and sharp shadows. Some hybrid fixtures have both source types, allowing selective use of spots and panels.
Another application of hybrid LED fixtures is the use of combined direct and indirect illumination. Using controls for dimming and for variable direct/Indirect levels, the desired distribution of the lighting types can be achieved. In some cases, wall controls are used to adjust the direct and indirect illuminance settings; in other cases, pre-set distributions are set by connecting fixture panels to 0-10v controllers, field-adjusted for desired direct/indirect lighting.
In this and other ways, hybrid fixtures with multiple light sources can offer application flexibility. The mix of general illumination and task or focal illumination can address perennial challenges in lighting certain spaces. For example, conference rooms require controls for presentations, reading, and task work, among other functions. For optimal visibility and comfort, conference rooms should include direct (downlight) and indirect (uplight) illumination to ensure lighting is distributed evenly and suitably to the conference table and walls, while also allowing for sufficient ambient levels.
Compare this to a retail setting, which needs both downlight and wash for aisleways and displays, as well as spots for individual displays and signage, for example. As in the conference room example, a combination or hybrid lighting system should be designed to deploy a single fixture that can introduce multiple layers of light in a controlled and balanced fashion. The multiple-source fixture delivers direct and indirect ambient lighting as well as task and focal lighting.
Now consider the hybrid fixture as a decorative element, contributing to the design of a space or building. In this way, the fixture can provide every layer of lighting desired by the project team.
PART 3 – Hybrid Benefits and Applications
With any lighting system, there are pro and cons to weigh in the specification phase. This is as true with conventional fixtures as it is with combination and hybrid types. For example, building projects frequently demand flexibility in interior uses. They may seek adjustable and reusable systems to improve their long-term adaptability and sustainability. As seen in meeting rooms and retail stores, lighting needs can include controllable and aimable sources. In addition, the interiors almost always need layers of light, which can come from one fixture or multiple fixtures.
The genesis of the hybrid concept is in addressing these needs with a system that allows for efficiency and problem solving. In order to evaluate whether a given luminaire or group of fixtures efficiently solves the given lighting task, building teams can study the corresponding photometrics, or measured distributions of light output from luminaire installations. This allows the team to model achieved levels of illumination across the target areas: the beam spread or pattern of light output from each luminaire, its luminous intensity at various points, and how the light falls within the actual installation space. The format for these readings is given by the ANSI/IES standard LM-63.
Various kinds of distributions may be combined in building spaces to achieve the desired effects and functionality. According to Tina Sarawgi at the University of North Carolina at Greensboro, these include:
• Diffuse uplighting. Intended to achieve uniform ambient lighting in a space, 90% or more of the light is reflected off the ceiling and introduced it indirectly into the space, with beam spreads of 80° to 120° upwards. The result is a low-contrast space with uniform ceiling luminance and minimal glare.
• Concentrated uplighting. To create areas of high luminance on the ceiling with dark areas in between, utilize beam spreads from 30° or lower, yielding a high-contrast space with a visually prominent ceiling.
• Diffuse downlighting achieves uniform interior ambient lighting, illuminating the horizontal surface below the luminaire with 90-100% of the lighting aimed downward and with little contrast.
• Concentrated downlighting, on the other hand, creates areas of high luminance on the floor with dark areas in between—a high-contrast environment—using luminaires with tighter beam spreads.
• Multidirectional lighting. For a stimulating interior with high brightness levels, lighting is aimed both upward and downward, about 40-60% each. This approach minimizes contrast and shadow. Reduced shadow and contrast. A high brightness interior
• Semi-direct lighting describes balanced cases where illumination is aimed mainly downward (about 60–90%) with the rest upward, yielding moderate contrast.
• Semi-indirect lighting. Conversely, this is a balanced scheme where illumination is aimed mainly upward—again, about 60–90%—but with less direct light and glare.
All of these approaches can be achieved with a hybrid lighting system as described above, or with multiple dedicated luminaire types, or a combination of both. Other kinds of lighting effects—wall washing, wall grazing, slot lighting, accent lighting and cove lighting—may also be employed.
One question arises, however: At one point does the cost and complexity of the architectural lighting solution outweigh its benefits in terms of aesthetics and functionality?
Efficiency and Problem-Solving
Among many building owners and end-users, energy efficiency and sustainability are important goals for their facilities. Another common goal is to standardize interior finishes and materials as well as fixtures, furnishings and equipment (FF&E), which helps simplify building operations, reduce stock inventories and the number of vendors, and cut operating costs. In fact, from school districts and corporate headquarters to hotels and retail chains, using fewer lighting fixtures is a common aim, too.
Consider a bill of materials (BOM) analysis related to an office workspace. Using a traditional lighting system, the design may include (1) direct-indirect pendants, (2) spots and (3) task lights, such as undercabinet or desk fixtures. A modular hybrid system design, on the other hand, could accomplish the same results and foot-candle levels with ceiling-mounted runs of 6-inch hybrid panels of aimable general lighting and spots. Not only does the latter require fewer fixtures—only one multiple-source type is used—but in many cases fewer units.
In another analysis, the pure functionality of fixture types may be compared in terms of efficiency and problem-solving: How to mix general and task illumination in a given space. LEDs are used more frequently in recent years for applications of combined ambient and task lighting, in part because they provide stable white light and use very little energy—efficient LED spotlights for example, produce about 75 lumens per watt. In addition, using one hybrid fixture type for both general and task illumination can help solve problems for difficult design challenges, including museums and art galleries, conference rooms, retail settings, and workplaces.
The fact is that hybrid fixtures with aimable luminaires add to the efficiency and problem-solving capability of a single lighting fixture. To the question "Why aim light?" an experienced designer can offer several rationales:
• Efficiency. Rather than waste foot-candles where higher light levels aren't needed or desired, aiming allows end-users to provide light only where it is needed.
• Adaptability. As the space changes light can be reconfigured while maintaining the same system footprint, simply by re-aiming the fixtures.
• Layers of light. Contrast provides wayfinding and creates visual interest, among other benefits. A single light fixtures is more effective if it can provide layering.
Whatever products are chosen, another consideration is price -- both installed cost and life-cycle cost. A variety of factors may influence installed and operating costs.
One price impact is fixture spacing. Traditional downlight spacing for recessed cans (high hats) is about half the ceiling height, or 5 feet apart for a 10-foot ceiling. Newer products, such hybrid fixtures, allow wide on-center spacing of up to 25-30 feet, reducing the total number of fixtures required for a given space. This can help cut overall energy consumption and lighting power densities (LPDs), or watts per square foot. Depending on the design, it may also reduce fixture cost per square foot; it certainly simplifies the electrical design, thus reducing installation costs.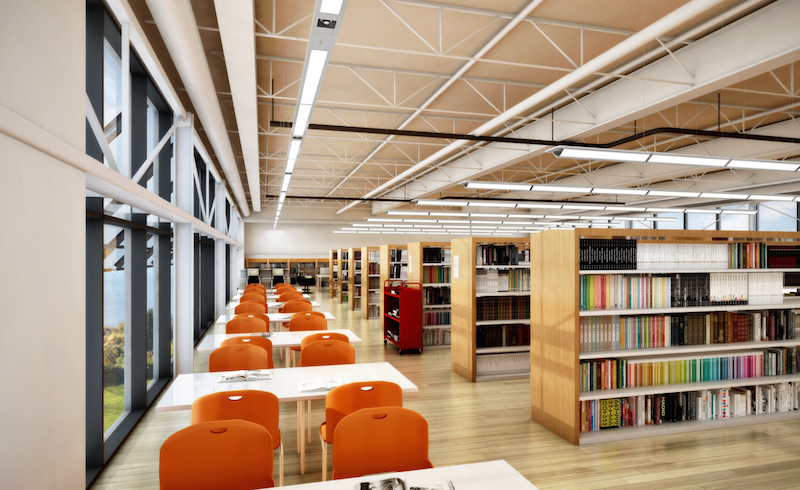 Fixture spacing is a major price impact for lighting systems, and downlight spacing for recessed cans (high hats) may be about 6 feet apart as compared to 25-30 feet for hybrid fixtures. Depending on the design, it may reduce fixture cost per square foot. Courtesy Tech Lighting
Another cost factor is the use of integrated controls. Hybrid fixtures can be fitted with individually controlled channels, a feature known as channel selection. This allows for scene setting, added load savings, and reduced wire routing; in addition, channels can dim separately based on function, such as when selected fixtures are set to dim during non-peak hours. Similarly, integrated daylight sensors and dimming controls reduce loads to supplement available daylight and other sources of light. Add occupancy sensors to the mix, and end-users can further optimize energy use based on space use. In these ways, controls and channel selection reduce costs and boost efficiency.
Last, LEDs are known as long-life sources and fixtures. LED light modules can be rated to 50,000 hours to L70, meaning the lifetime of LED module ends when it produces below 70% of the initial rated output. At the L70 rating, the lamp lumen maintenance factor (LLMF), another key measure, is 0.7. These figures represent the minimum effective lux value for the LED source. Still, at 50,000 hours one can expect 5.7 years of service if the light is operated 24 hours a day. These long-lifetime LED modules reduce overall costs of ownership, environmental costs such as disposal, and maintenance costs like relamping.
PART 4 – Hybrid Installations, Performance & Case Studies
To plan for a building project using hybrid lighting fixtures and systems, building teams have a few basic considerations. First, as with any modular and reconfigurable system, early-phase planning allows the team to more systematically address diverse sets of needs for the owner and end-users. Initial configurations may be highly customized to address expected functionality; with the hybrids, virtually any lighting effect can be achieved.
Second, the project team reviews the product options and installation methods available for the design need. Light modules can be linear panels or spot multiples or combinations of both. Specifications may call for daylight sensors and occupancy sensors incorporated directly into the system, as well as integrated battery backups for emergency lighting. Blanks (panel sections without luminaires) can be added to hybrid fixture runs to create distance between light fixtures and to create runs that are equal in length, even if the lighting modules are different.
Installation and mounting methods for hybrid systems are straightforward, and include suspension mounts (rigid or adjustable) as well as recessed mounting with either flanged and flangeless hardware. Lay-in mounting can be used for T-grid type ceiling systems. For fixtures with integrated three-channel controls, each individual module can be configured and reconfigured on-the-fly without rewiring. Mechanical and electrical connections are simplest with modular, pre-engineered hybrid lighting systems: These use universal connector plates and uniform positions for power and dimming controls, often connected with a single cable. In these ways, the modular hybrids eliminate complex wire routing, splicing, or multiple power drops. Some also have recessed frame kits, pre-cut by the fabricator but also field cuttable to adjust during recessed installation.
Examples of applications help illuminate the benefits of the hybrid systems and their installation options.
Art Gallery
Generally a challenging installation that must be reconfigured frequently for changing exhibit needs and display/focal aiming, art galleries and museums can use modular lighting products for a long-term system. The project shown (at top of article) incorporates 6-inch suspended tilting panels and 6-inch suspended spots with suspended blanks and an L-shaped connector panel.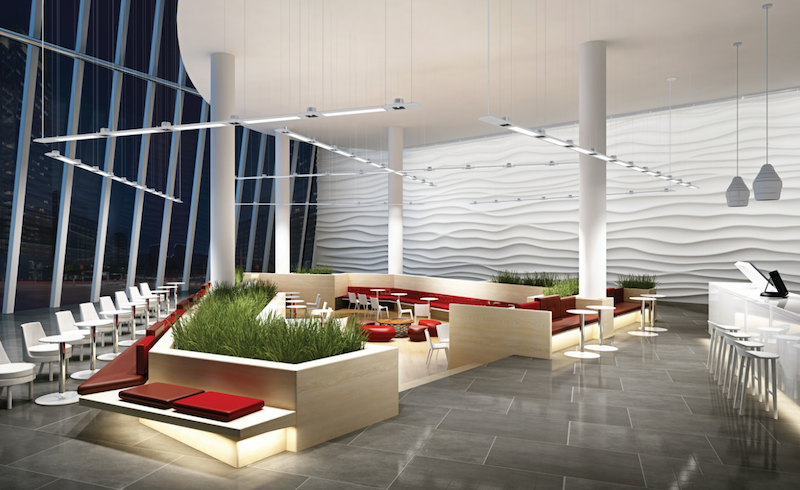 A dynamic configuration of suspended hybrid fixtures in a hotel lobby becomes the decorative layer as well as providing general and focal illumination layers. Slender static panels and tilt panels are combined with spots. Courtesy Tech Lighting
Conference Room
In meeting rooms, illumination is often delivered by two or more lighting systems that function independently to create 'lighting scenarios' depending on the activity or task, according to LEDvance LLC. General lighting is dimmable or switchable, or both, for example to accommodate audiovisual presentations. Downlighting and wall washing provide focal and display lighting as well as ambient illumination for perimeter circulation zones.
Gourmet Grocery Store
In this example, 12-inch-wide modular fixtures are suspended midway between the aisles and dual tilt panels are aimed optimally at racks of products. At the ends of the racks and aisles, 12-inch panels with side-by-side dual spots provide aimable focal illumination for point-of-purchase (POP) displays, table presentations and each aisle's end-racks.
Hotel Lobby
For a more exciting, residential and welcoming hospitality scene, hotel lobbies benefit from this dynamic configuration of suspended hybrid fixtures, which become a decorative layer as well as providing general and focal illumination. The needs for aimable light and good ambient levels is handled by slender static panels and tilt panels, with spots provided every three feet.
Library
Similar to the retail application, aisles of bookshelves are illuminated with dual-tilting panels in the library design. Static downlighting panels illuminate a row of study tables, with spots added for enhanced task lighting at each table location.
Hybrid Benefits in the Case Studies
As the application examples show, the lighting fixtures are configured and positioned for optimal efficiency and for the ideal photometric criteria and dispersion. The use of modular hybrid LED systems allows for customized applications that use fewer units (fixtures) for the same comparable foot-candle at targets—the product displays, bookshelves, tabletops, desks and décor.
The application examples also help illustrate how general illumination panels, spots, lighting controls, and blank panels can be configured in myriad combinations to accommodate a range of layered lighting needs. The potential solutions are affective as long as key needs are met:
• multiple fixture types to address lighting layers
• aimability for efficient and effective light dispersion
• multiple channels
• emergency backup and occcupancy sensors built in
• modular and pre-engineered system
• suspended fixtures with uplighting option (for direct-indirect lighting)
• adjustability.
In the case studies, the hybrid fixtures mix general illumination with focal and task illumination. This provides multiple layers of light in one modular fixture solutions. Unseen in the images, the hybrid applications also reduces the number of vendors and suppliers, and potentially reduce the number of replacement lamps and components the building owner-operator has to stock.
Comparing Hybrids and Traditional Sources
The hybrid fixtures used in the case studies look different from many traditional sources. The systems are also different in terms of their performance. For example, the low profile of the fixture assemblies helps to ensure that sufficient plenum space is available when installed in recessed configurations. Also, the tiltable and aimable light sources effectively direct light for task or display layers; this is especially useful for the retail applications where both general and directional illumination are needed—and without wasted foot-candles.

Tiltable and aimable light sources effectively direct light for task or display layers; this is especially useful for the retail applications where both general and directional illumination are needed -- and without wasted foot-candles. Courtesy Tech Lighting
In addition, the best practice in lighting design -- the layering of light for task, ambient, accent and decorative illumination -- can be addressed with some combination and hybrid fixtures. By integrating spot, wash and ambient fixtures and by utilizing light guide technology to create even light without pixels or hot spots at diodes, a uniform distribution can be achieved that focuses on key illumination needs. Ideally, a hybrid fixture should allow for integrated controls and for dimmable and independently controlled elements. (If the elements and fixtures are pre-wired, this will speed installation as electrical contractors will not need to add the channels.)
After installation, independent controls could be applied as space needs change. Integrated controls can also include daylight sensors to adjust light levels for energy savings, and occupancy sensors to save energy when a room is empty. Integrated emergency backup is another desirable feature for some lighting products and systems.
Selecting a Lighting Fixture Solution
Lighting system must serve the needs of all stakeholders, say expert groups like the nonprofit DesignLights Consortium, run by the Northeast Energy Efficiency Partnerships. For the specifiers, the products and systems must achieve their vision for the space aesthetically and functionally while meeting energy and budgetary requirements. For the contractor, a good system will install easily, with flexible, code-compliant assemblies and readily available delivery of all components. (Reducing callbacks and change orders is another goal for installers.) For the end-users, lighting products must offers durability, good aesthetics and excellent performance over time; during the operations phase, simple adjustments, access to replacement parts and strong factory support make facility managers happy.
The selected systems must also deliver the basic requirements of modern lighting design, using layers of light to achieve the aesthetic vision and provide the proper amount of light in every occupied space. In an era of sustainable design, the solutions must also be environmentally responsible and healthy: That means producing good color rendering, meeting energy use objectives, allowing for end-user control and even achieving the desired mood and comfort for each space.
LED sources are most often the choice for general illumination and task illumination, and with modular hybrid fixtures they can help solve such perennial lighting challenges as conference rooms and retail settings with only a single supplier. The key is to understand the concepts and principles behind their application to take advantage of the photometrics, efficiencies and benefits of hybrid offerings.